Every 3rd Tuesday of the month we show independent films in our delightful bar. Although free entry, any donations taken go towards independent film making in Cuba.
Details of upcoming films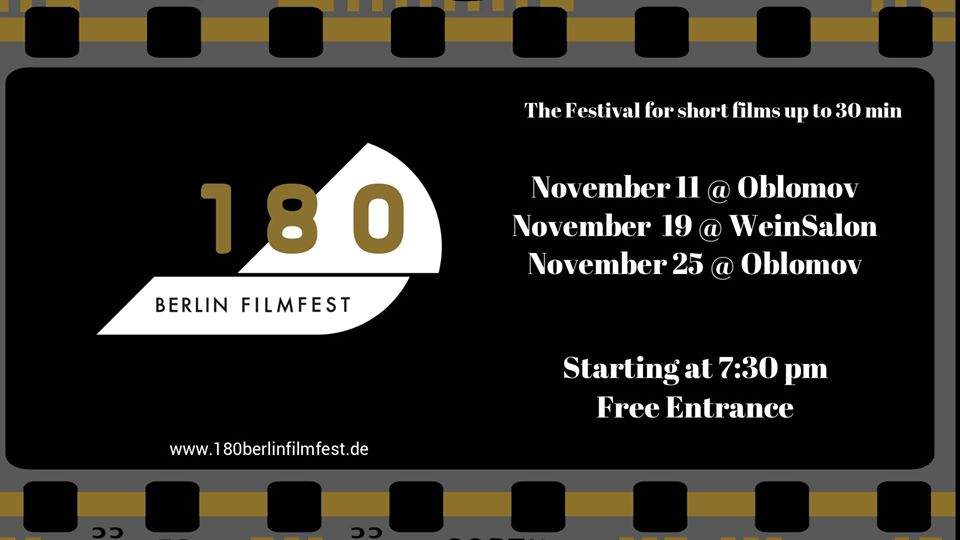 LIRIDONA by Thilo Gundelach
Germany 2018
Short Fiction
8 minutes
It's Liridona's wedding day. Pregnant, she finds herself married to a complete stranger. As her mother coerces her through the rituals of the ceremony, the young bride struggles to submit to the expectations placed on her.
Second skin by Ismet Ergün, Kerem Ergün
Germany 2019
Short Fiction
10 minutes
What would you do, if you are approached in a racist or sexist manner? A woman finds a way to protect herself without using words nor fists.
Director Statement
"During the shooting, we gave the actors a lot of scope for development. They brought in their personal experiences. Dialogues were more or less improvised. To record at maximum authenticity, we decided to make One-Takes, although there was not much time for rehearsals. Directing the film together as mother and son and wrestling with a common project was definitely the biggest challenge. But in the end this struggle enriched the film with different perspectives and emphases. We led the story as open as possible, but ultimately our protagonist reveals: It's not about ideologies, but individuals."
RETRATOS DE MI MADRE – PORTRAITS OF MY MOTHER by Tavo Ruiz
Germany 2019
Short Documentary
12 minutes
This is a documentary about my mother and the moment that changed her life. Through her narration, my mother confesses to me what she remembers from the moment she was raped as a child. By painfully recalling this traumatic event, she reflects on the sexual abuse of children and the scars that these events leave in a person's life.
Lolo by Leandro Goddinho, Paulo Menezes
Germany 2019
Short Fiction
14 minutes
Lolo is an openly gay 11-year-old boy trying to finally convince Max, his first love, to go public with their relationship at the school party.
GERMAN: Lolo ist 11 Jahre alt und offen schwul. Er will Max, seine erste große Liebe, davon überzeugen ihre Beziehung bei der anstehenden Schul-Party öffentlich zu machen. Max möchte auch eine Beziehung, aber ist sich nicht sicher ob Lolo der Richtige ist. Lolos beste Freunde Elena und Toby stehen ihm in dieser Situation bei und geben ihm die Unterstützung, die er braucht.
EXIT by Katharina Woll
Germany 2017
Short Documentary / Student Film
23 minutes
Exit is a film about two women who left the ultra-orthodox community. Sara Murray became ultra-orthodox at the age of 17 when she moved to Israel from the US and met her future husband. She lived a strong religious and dedicated life before she couldn´t handle the rigidness of her faith any more. Leaving the ultra-othodox world she lost all her children, who she can now only meet 2 hours a week in a day care center watched by Rabbinical social workers.
Sarah meets Heidi, daughter of chairman of the United Torah Judaism Party. She was raised ultra-orthodox in Bnei Brak and married at the age of 17. Always wanting to escape the religious life she managed to get a divorce and to take her two kids with her. Today Heidi fights for womens rights especially within the religious community. She helps Sarah to reopen her case at the Rabbinical Court and eventually get the custody of her children.
MENUETT by Felix Karolus
Germany 2018
Short Fiction
11 minutes
For Charlotte (Senta Berger) it is like any other Sunday, until the doorbell rings and a stranger (Thomas Thieme) surprises her with an exceptional demand.
Morgen kommt kein Weinachtsmann by Anna Ludwig
Germany 2018
Short Ficiton / Student Film
15 minutes
A single mum is very sad as she isn't able to afford to hire a Father Christmas on Christmas Eve for her children this year – a typical tradition in this family and parts of Germany.
The brothers just notice that mum is unhappy as Father Christmas won't be coming around. Their conclusion: Mum still believes in Father Christmas.
Now it's up to them to organize a Father Christmas in order to make mum happy again.
Abracadabra by Telemach Wiesinger
Germany 2019
Short Experimental Microfilm
2 minutes
A short magic trick – without net and double bottom !
Japan by Nils Hünerfürst
Germany 2019
Short – Travel
5 minutes
This four-minute video takes us on a multifaceted tour through Japan, where music, sounds and images meet. A 14 days journey across Japan, from islands to cities, passing by oceans and mountains, capturing lives and landscapes of these wonderful and inspiring country.
Greenkeeper by Lisa Pozo Nunez
Germany 2019
Short Comedy
3 minutes
Guenther is a greenkeeper with body and soul. Unfortunately his soccer club stays far
behind his ambitions. Since they are about to relegate again, it is on him to save the
honor of his team.
HANS IM PECH – HAPLESS HANS by Rena Dumont
Germany 2018
Short Fiction / Comedy
29 minutes
The grumpy factory employee Hans Himmelreich has to travel behind the Iron Curtain into a profoundly communist Czechoslovakia of the sixties to have his deceased grandmother buried. Despite prejudice, he unexpectedly finds happiness in this Sudeten German province.
FREE ENTRANCE – DONATIONS WELCOME